Comfort Cool Open Elbow Support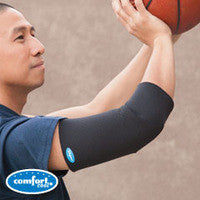 Lightweight, open-end neoprene splint provides warmth and is easy to don and doff.
Comfort Cool® Open Elbow Support isideal for soft tissue injuries such as tennis or golfer's elbow, ulnar nerve irritation, strains, sprains, bursitis, tendinitis and arthritis.
Thin, lightweight 1/16" (1.6mm) perforated neoprene provides light compression and protection for the sensitive elbow. Lined with soft terrycloth.
The open-end design makes this elbow wrap easy to apply and fit even large upper arms. Hook and loop tabs allow for quick-fitting adjustments.
Neoprene can be trimmed easily for a custom fit.
Hand wash and air dry.
Fits either the left or right elbow.
Does not contain natural rubber latex
Measure circumference of forearm 4 inches down from elbow crease.
If in between sizes, choose the smaller size.