Bio Skin® Compression Shorts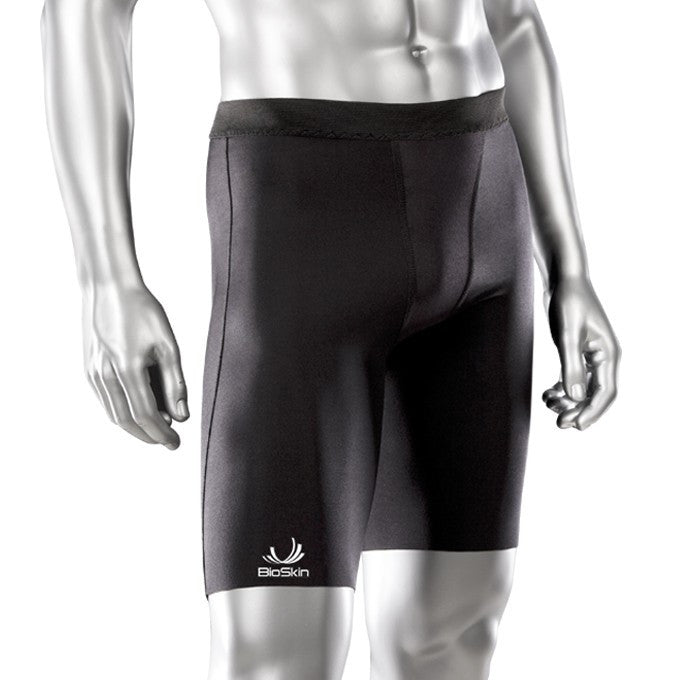 The high level compression provided by Bio Skin's® Compression Shorts has been shown to improve athletic performance and endurance by decreasing muscle vibration. Over time, this saves energy and keeps you from feeling as tired, which can also prevent injuries. Bio Skin's® patented, breathable material, allows moisture from your body to evaporate to keep you cool, so the shorts are comfortable to wear.
Reduces injuries
Controls muscle movements to improve recovery time after injury
Increases proprioception
Optional Groin Wrap isolates compression for groin and hamstring
Constructed of Bio Skin® Ultima™ material
100% neoprene and latex free
Injuries Treated:
Hip Flexor Strain
Iliofemoral Sprain
Ischiocapsular Strain
Quad Contusion
Thigh Strain
Application Instructions
Application Instructions
1. Bio Skin shorts are very compressive. Stretch the leg openings vigorously, prior to application.
2. Step into the shorts. Using both hands with thumbs against the thigh and hands extended, move hands down the lower leg, gathering the material. Pull shorts up, one leg at a time, until waistband is just above the knee.
3. Repeat the procedure, pulling up shorts, until waistband is at crotch level.
4. Once again, gather the material, and pull over buttocks one side at a time.
5. Continue pulling up to waist level. Adjust for comfort.
6. Bottom of shorts should fit about 2-3" above the knee. Shorts should fit snugly in the crotch.
Applying the Groin Wrap
1. Examine Groin Wrap and identify 1" hook fastener and 7" loop fastener.
2. Sit on the edge of a chair. If wrapping the right leg*, hold 7" loop in left hand and place it (loop facing up) over your left pocket (hip area). Bring the wrap around back of waist till the 1" hook end is above the right leg.
3. Drop the 1" hook end between your legs. Reach behind your right leg with your right hand and grab the 1" hook end. Stand up, bringing the wrap up and around the right thigh. Attach the 1" hook to the 7" loop.
4. Adjust and equalize tension throughout the length of the groin wrap by sliding hands between wrap and shorts. Be careful to eliminate wrinkles and bunching of groin wrap.
* Reverse process for left leg
Easy Care Instructions
Wash Bio Skin® regularly to prevent body salt and oil build-up that naturally occurs after the product has been worn a few times. Attach the hook to the loop to prevent lint build-up. This will give your Bio Skin® a longer life span.
30 C 86 F
Hand Wash
Hang Dry
Do Not Bleach
Do Not Dry Clean