Bio Skin® Gladiator Hinged Knee Brace Pull On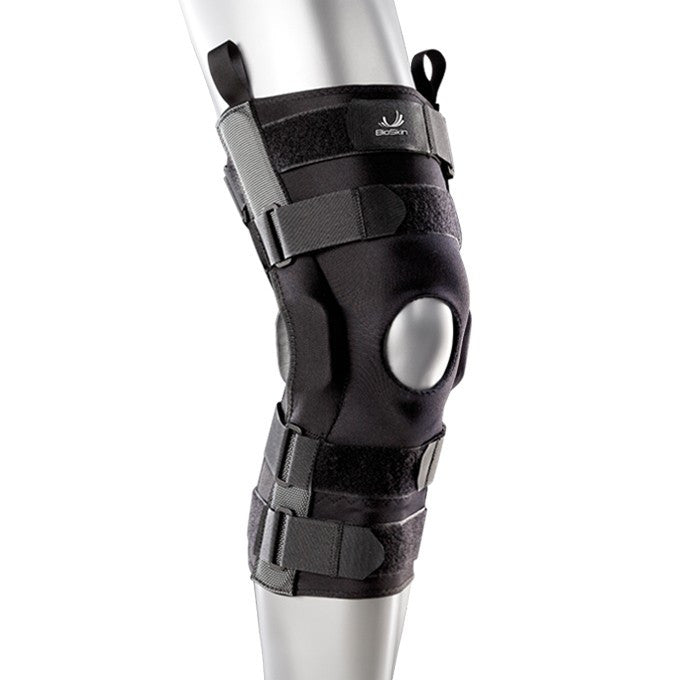 The Gladiator is made to protect knees with ligament sprains or tears. The heavy-duty hinge is 15 inches long and is solidly anchored into the brace's rigid strapping system to prevent unwanted twisting and bending. The hinge may be used to control range of motion with attached pins that can be set to limit extension and flexion. The Gladiator also includes a Visco gel ring around the patella to control swelling and pain in the joint. Constructed from BioSkin's® patented material, the Gladiator is comfortable to wear, and doesn't pinch or bind, even behind the knee.
SIZING BELOW: MEASURE AROUND MID PATELLA (KNEE CAP)
XSMALL: 12 - 13"
SMALL: 13 - 14"
MEDIUM: 14 - 16"
LARGE: 16 - 17"
XLARGE: 17 - 19"
XXLARGE: 19 - 21" 
FEATURES:
Ideal after knee arthroscopy
Finger loops enable easy pull-on application
Strapping system minimizes migration
100% neoprene free and latex free
Choice of materials: Ultima™, or Stratus™
INJURIES TREATED
Anterior Cruciate Ligament (ACL) Sprain
Knee Instability
Lateral Collateral Ligament (LCL) Tear or Sprain
Medial Collateral Ligament (MCL) Tear or Sprain
Posterior Cruciate Ligament (PCL) Sprain