BOSU® Balance Trainer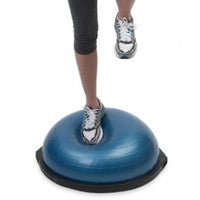 Ideal for static and dynamic balance training.
This versatile dome-shaped trainer can be used to integrate balance challenges into cardiovascular, endurance, core and flexibility training.
Use with the platform side up or down to challenge balance with different body positions.
Inflate dome until firm.
Two recessed handles on the bottom of the platform make it easy to turn over or carry.
Measures 25" (64cm) in diameter.
Standard includes trainer and pump.
Pro Pack includes trainer, pump, exercise booklet and DVD.