Elasto-gel Hot/Cold Therapy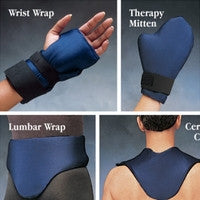 Versatile wraps can be used for either heat or cold therapy.
Made of a tough, flexible gel covered with a four-way stretch material that allows maximum conformity, comfort and heat/cold transfer.
Elasto-Gel™ wrap is specially designed to simultaneously apply pressure and hot or cold therapy.
Can be placed in the microwave or a conventional oven for heat therapy or in a freezer for cold therapy.
Retains heat or cold for 20 to 40 minutes.
If punctured, the gel will not leak and the wrap remains usable.
Includes simple instructions for cleaning.
Elasto-Gel™ therapy products are guaranteed for 6 months.
Latex free.
Elasto-Gel™ Hot/Cold Packs
Versatile packs offer excellent conformity and comfort. 
Same heating and cooling features as wraps.