epX® Heavy Duty Hinged Knee Support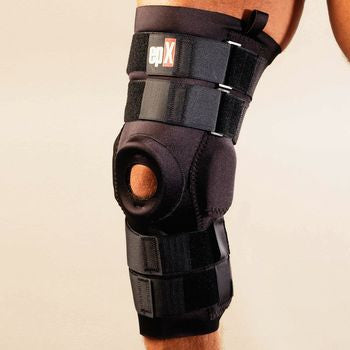 Same features as the epX Hinged Knee plus heavy-duty polycentric ROM hinge with adjustable flexion and extension blocks. Also has four circumferential straps. Latex free.
epX Hinged Knee Features:
New and improved with patented DynaDotz® lining to reduce slippage. Medial and lateral hinges now with ROM stops at 0°, 15°, 30° and 45° to limit extension. New padded hinge covering provides better comfort and adds protection during contact sports. Sewn-in condyle pads increase comfort. Ultrathin, skin friendly and breathable. Anterior straps, removable buttress for patella stabilization and easy-pull tabs. Anatomical contoured fit. Latex free.
Available in 6 sizes:
Small (mid patella circumference 13" to 14")
Medium (mid patella circumference 14" to 14.5")
Medium/Large (mid patella circumference 14.5" to 15")
Large (mid patella circumference 15" to 16")
X-Large (mid patella circumference 16" to 18")
XX-Large (mid patella circumference 18" to 20")