Theraband Foam Roller Wraps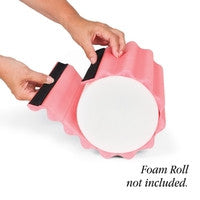 Enhance existing foam rollers.
Novel tool for hands-free myofascial release, deep tissue massage and stabilization exercises.
Ideal for training, injury prevention and rehabilitation. Helps increase muscle flexibility and range of motion.
Ridges provide massage-like experience.
Attach to Standard (Full Round) Foam Roll  (6" (15cm) x 12" (30cm) 
Four progressive densities support varying degrees of tissue mobilization.
Poster illustrating general techniques and advance exercises divided by muscle region.