TheraBand™ Tubing with Handles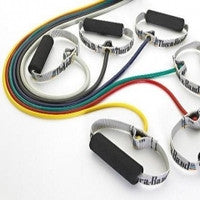 TheraBand™ Resistance Tubing with Handles provides the same resistance, system of progression as authentic TheraBand™ Resistance Bands and Tubing. 
Soft grip handles offer added convenience.  
Great for gym, clinic or home use. 
Available in 6 color-coded resistance levels. 
Each unit is a minimum of 48" in length and comes complete with usage and safety instructions.
TheraBand™ Tubing is endorsed by the American Physical Therapy Association.