Wrist-Squeeze™ Ulnar Compression Wrap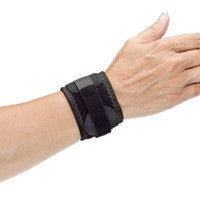 Provides relief for ulnar wrist pain.
Made of perforated neoprene to provide a compressive and comfortable wrist support. Edges sewn for comfortable fit.
Ideal for ulnar wrist pain, TFCC pain and extensor carpi ulnaris stabilization.
Non-slip interior prevents slippage without a tourniquet effect.
Use external "pressure dot" for extra compression at ulnar styloid.
Universal-designed to fit either right or left wrist.